Dear friends,
We are very delighted to announce that Hollyland will be attending Inter BEE 2022 at Booth 8112, Hall 8, Makuhari Messe. The show date is scheduled from November 16th to 18th, 2022.
Inter BEE is best known as one of the major tradeshows that bring together content creation–related technologies and equipment of different companies worldwide and provides an opportunity for you to feel the latest innovations with your hands. Due to COVID-19, Inter BEE was held online entirely in 2020 and was held both onsite and online in 2021. This year, Inter BEE will be a live large-scale onsite tradeshow, which will also be open to the public for online demonstrations that will begin on November 1st and will close on December 23rd.
Hollyland is very excited to meet worldwide content creators attending the event this year and we cannot wait to present our latest achievements in A/V content production. Feel welcome to join us at Booth 8112, Hall 8 to take a firsthand look at our advanced A/V innovations.
Highlight Products for the Tradeshow:
Ÿ Mars 4K
As a new member of Hollyland's Mars series, the Mars 4K is our latest achievement in the wireless video transmission domain. It is capable of a 450ft (150m) LOS range and ultra-low latency of 0.06s. The Mars 4K is designed to combine high performance and reliable quality at an affordable price, perfect for improving your content production experience.
Ÿ Mars M1
The new Hollyland Mars M1 is a powerful wireless monitor that integrates transmitter, receiver, and monitor functions into one solution. It can transmit camera signals at a LOS range of up to 450ft (150m) with a low latency of 0.08s, effectively simplifying your device deployment and improving your efficiency during video shooting. The Mars M1 monitor is compatible with Hollyland's Mars Pro and 4K wireless video transmission systems—the Mars 4K, Mars 400S Pro, and Mars 300 Pro.
Ÿ Lark C1
Following the Lark M1, the Lark C1 is Hollyland's newest revolution in wireless microphones, ideal for direct audio recording on mobile phones without compromise, which facilitates more diversified content creation needs. Featuring our advanced sound processing technologies, the Lark C1 is perfect for easily capturing crisp audio at distances of up to 650ft (200m).
Ÿ Solidcom C1 6S
Solidcom C1 is Hollyland's first true wireless and self-contained full-duplex intercom headset solution. Featuring exceptional audio quality with an incredible transmission range of 1,100ft (350m), this lightweight and hands-free intercom system ensures efficient real-time production team collaboration. Different packages are available for varying team sizes that address basic to even more complex application scenarios. This year at Inter BEE, we will demonstrate the Solidcom C1 6S package (with one Master headset and five remote headsets) to you.
To greet you for participating in this year's tradeshow and promote a face-to-face interactive experience, we will prepare an onsite drawing each day from the 16th to the 18th of November. Please note that you need to be present to win the exciting prizes, and the host will draw the winners during the raffle session each day.
Ÿ Drawing time
16th: 11:00–12:00
17th: 11:00–12:00
18th: 11:00–12:00
The drawing time may be adjusted according to the actual situation on site.
Ÿ Prizes
Mars 4K
Mars M1
Lark C1
Ÿ How to participate
1. Follow us on Twitter via @Hollyland_Japan and @Hollyland_Tech.
2. Visit Booth 8112, Hall 8, and place your business card in our raffle box.
Note:
1. The above two conditions must both be met to participate in the drawing.
2. Hollyland reserves the right to manage the drawing event.
Besides the exciting prizes, we will also give away free souvenirs to visitors, including data cables, T-shirts, mugs, and pens. Stop by, be our guest, and enjoy a souvenir!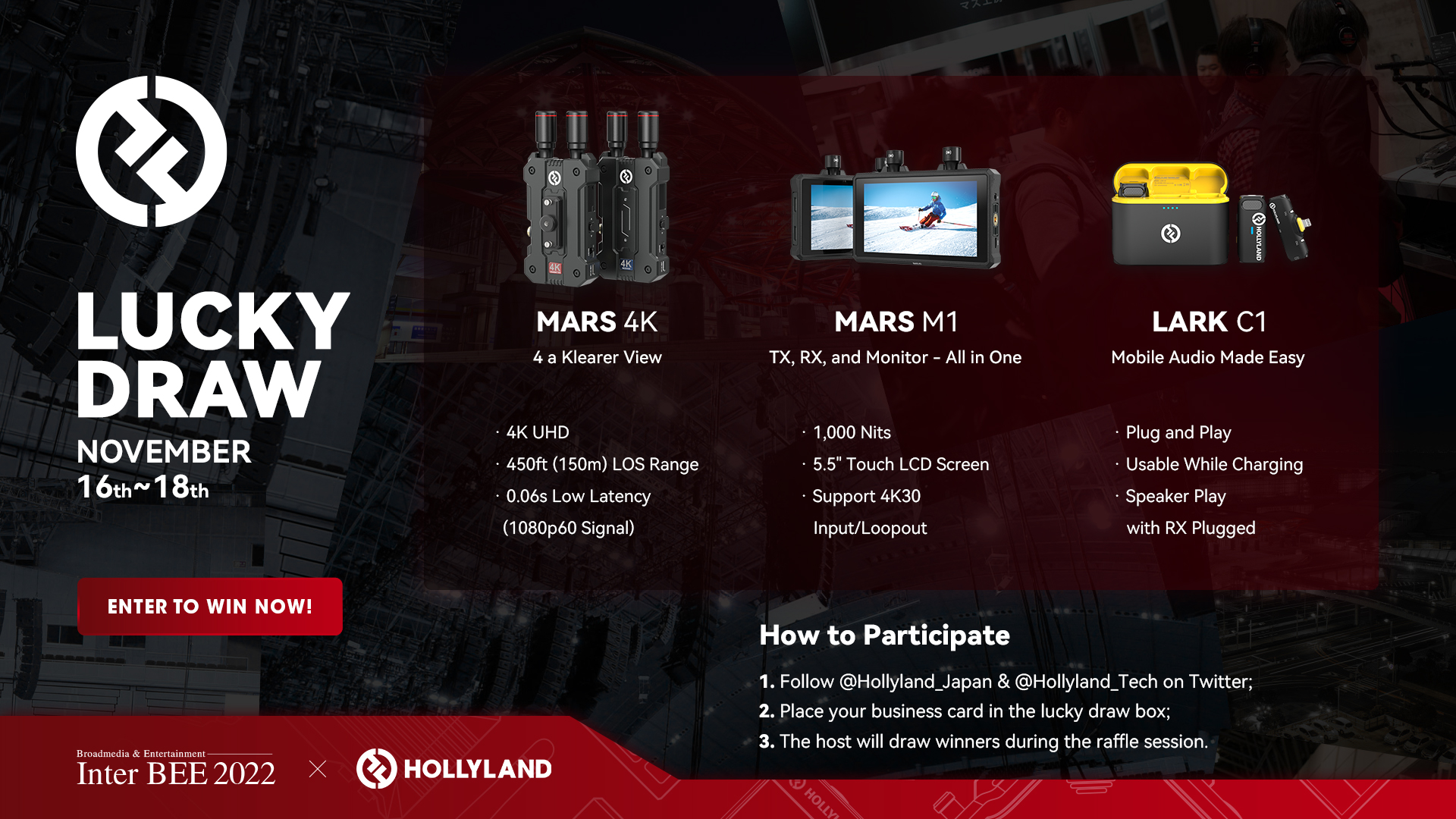 With the mission to empower people to connect creativity wirelessly, Hollyland is committed to offering professional wireless products designed for A/V transmission and communications. We cordially invite you to visit us at Booth 8112, Hall 8 in Makuhari Messe, and we are looking forward to greeting you with our incredible wireless production products.
Sincerely,
Hollyland Team