Dual-Mic
ENC

1,300ft (400m)
LOS Range

Group
Communication

Expandable Cascade
Connection

1.9GHz
Frequency

Cozy Headset
Fit

Flexible Configuration
& Upgrade

Extended Battery Life
Introducing Hollyvox G51, the ultimate full-duplex wireless intercom system recognized for its unparalleled professional performance. With advanced dual-mic Environmental Noise Cancellation (ENC) technology, this professional full-duplex wireless intercom system ensures unparalleled communication clarity, ideal for production teams working in loud environments. The ergonomic headset design offers optimal stability and comfort, allowing you to stay focused on your tasks. With an impressive LOS range of 1,300ft (400m), it is the ideal choice for small- and medium-scale events such as stage performances and sports events, enabling seamless team coordination through extensive and interference-free communication.
Team Communication
to the Next Level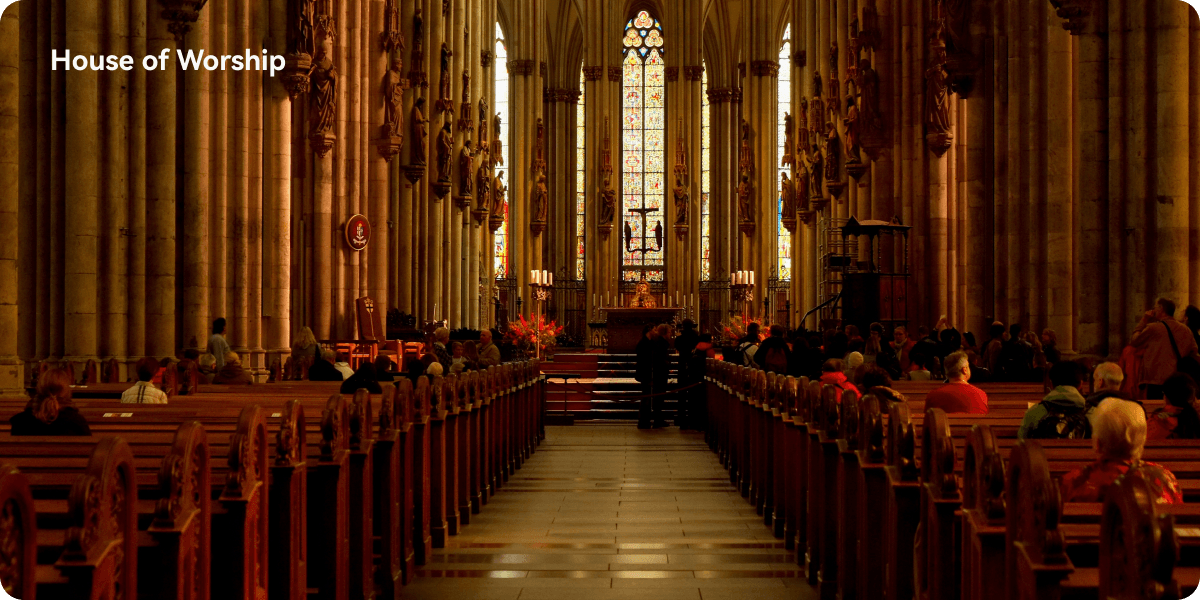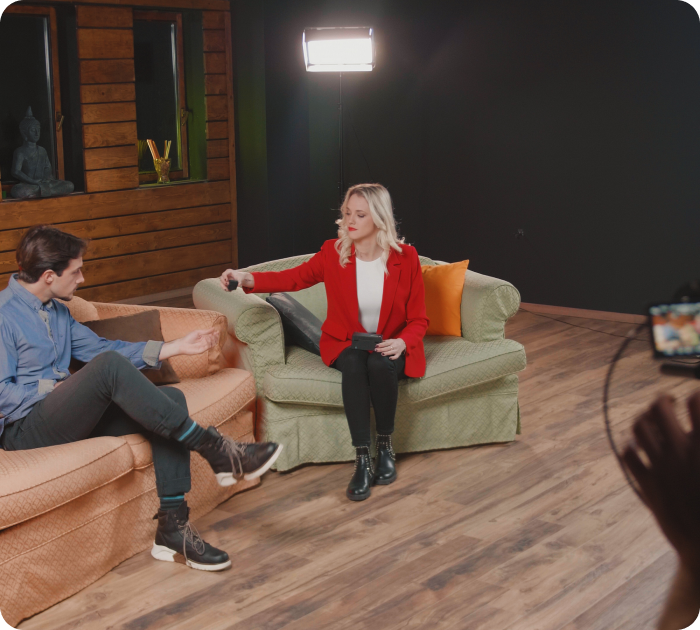 The Power of ENC to Excellent Audio Clarity
The Hollyvox G51 stands out with its exceptional dual-mic ENC technology, which delivers clear audio even in challenging conditions by effectively blocking unwanted background noise.
Environmental Sound

Reverse Internal

User Sound
+
Environmental Sound

Up to 20 dB for noise
Cancellation with ENC

Sounds Output to others
Its supercardioid primary mic captures the speaker's voice and environmental noise accurately, while the omnidirectional secondary mic collects environmental noise from various directions as noise samples. Through advanced ENC algorithms, the audio signal is processed in the beltpack, successfully eliminating the environmental noise and ensuring high-quality clear audio.
Precise Communication
with Group Talk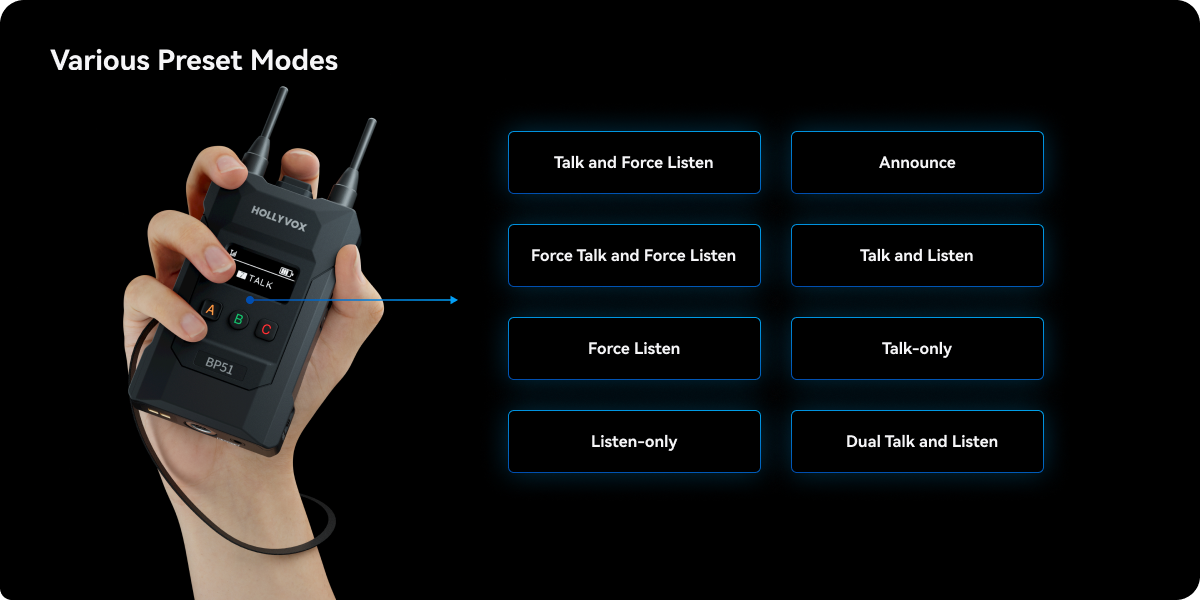 The Hollyvox G51 achieves precise communication by allowing for up to three-group communication, even in unlimited cascade connections. Group configuration flexibility is easily accessible via the base station or web page (where the group configuration file can be saved and imported). The beltpack offers 8 preset modes that users can adjust to suit their individual working needs. These modes are ideal for different team collaboration scenarios and work situations. Each mode comes with a color indicator light to make it easy to use and understand.
Complete Connectivity for
Seamless Communication
With its versatile range of interfaces, the Hollyvox G51 boasts unparalleled cascade connection capabilities. This means that you can expand your system to include virtually unlimited base stations. To connect two Hollyvox G51 base stations, a straightforward option is to use either IP or 4-wire cascade connection. To connect more than two base stations, a combination of IP and 4-wire cascade connections can be employed. This user-friendly approach empowers you to effortlessly expand your communication network according to your requirements.
Our device also supports connection to other Hollyland intercom systems via the 4-wire interface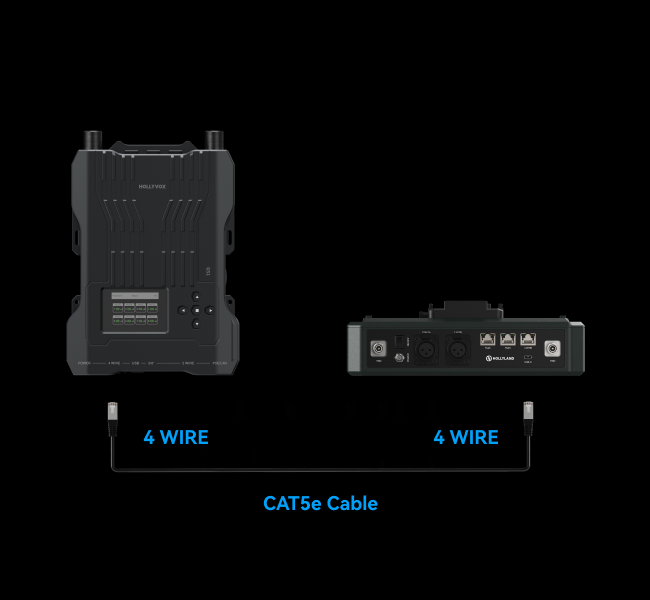 2-wire and 4-wire audio systems using the 2-wire interface and 4-wire interface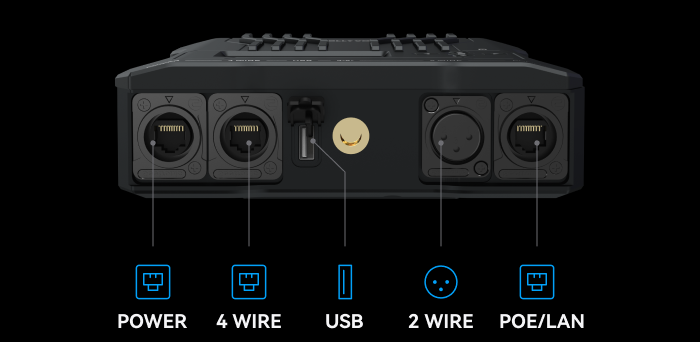 Hollyland's Walkie-Talkie Converter to work with a wider range of walkie-talkies.
Impressive Communication
Range with 1.9GHz for
Enhanced Connection
Stability
The Hollyvox G51 offers full support for two types of antennas — panel antenna built into the base station and external fiberglass antenna. This allows for greater flexibility in on-site applications and significantly extends the transmission range. In addition, the device operates on 1.9GHz, ensuring communication free from interference.

External Fiberglass Antenna
The external fiberglass antennas provide a dependable transmission range of approximately 985ft (300m) in all directions, making them perfect for large-scale events like sports events, exhibitions, and beyond, ensuring reliable communication throughout the entire venue and uninterrupted connectivity.

Built-in Panel Antenna
Ideal for operations in unobstructed venues like church events and concerts, the built-in panel antenna offers an impressive one-way transmission range of up to 1,300ft (400m) in the front. Additionally, it provides an extra 160ft (50m) of range at the back. This configuration makes it an excellent choice for one-way communication purposes.
Increased Communication
Stability and Reliability
Powered by automatic frequency hopping technology,
our device automatically identifies interferences across the frequency bands and selects interference-free options, ensuring uninterrupted communication and improved stability.
Note: The operating frequency may vary by country and region. Please refer to local laws and regulations for more information.
Immerse Yourself in Audio
Excellence
200Hz–7kHz

Frequency Range

16kHz

Sampling Rate

60dB±2

SNR

<1%

Distortion
The Hollyvox G51 boasts impressive technical specifications for an immersive audio experience. For example, with a frequency range of 200Hz–7kHz, it captures every sound detail with precision. Furthermore, its sampling rate of 16kHz ensures high-quality audio sampling for accurate reproduction.
Enhanced Design for
Maximum Comfort and
Superior Audio
The brand-new headsets (including the single-ear headset and double-ear headset) developed by Hollyland offer maximum comfort and superior audio quality, with a structure that better fits the human ear and effectively reduces environmental noise. In addition, a wide range of headset accessories, such as mic cushion and head beam, is available for easy replacement on-site, promoting cleanliness and hygiene. Simply use them as needed and enjoy an exceptional wireless intercom experience.
Electret Mic ENC Double-Ear
The Hollyvox G51 includes an optional accessory in the form of a double-ear headset, ensuring maximum ambient noise reduction while catering to the specific preferences of those who need to focus more on their communication without being disturbed by environmental noise.
3.5mm Headset Interface
The beltpack offers compatibility with 3.5mm headsets with a condenser microphone, providing greater flexibility for communication.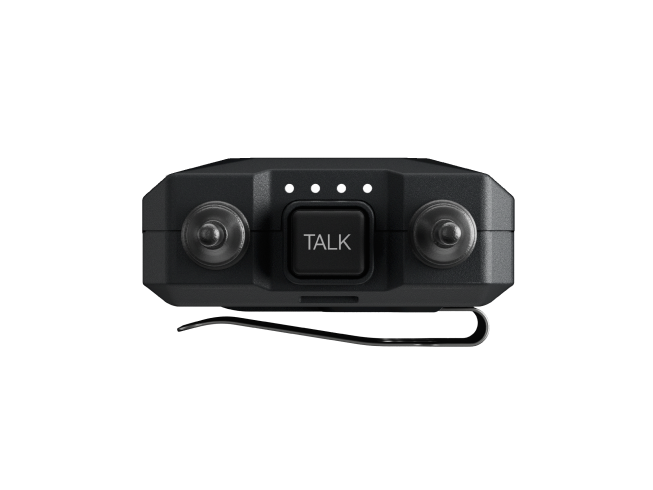 TALK Button
With the ergonomically designed TALK button, you can effortlessly engage in conversations with just a single press, while a quick release activates the MUTE mode.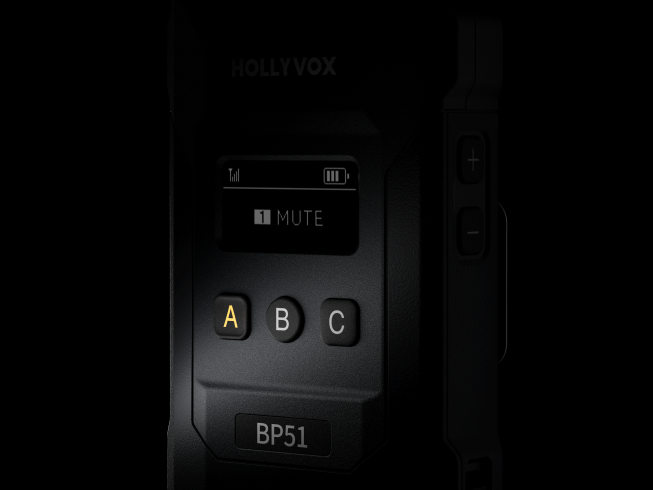 Group Button
The illuminated color on the A, B, and C buttons allows for easy identification of the assigned group, enabling efficient communication.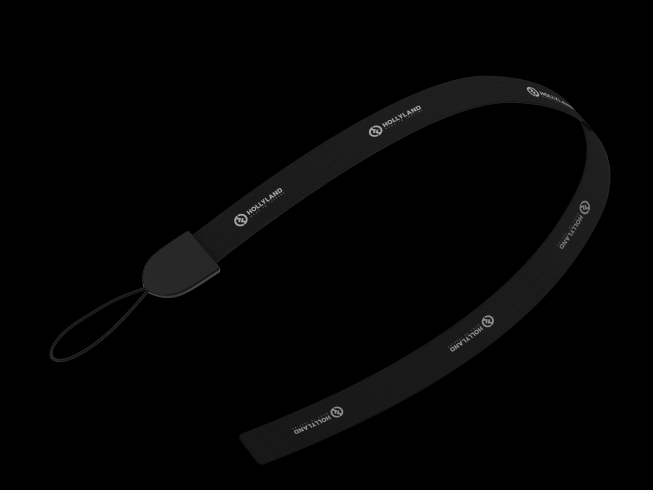 Neck Strap
Each beltpack comes with a lightweight neck strap for added security.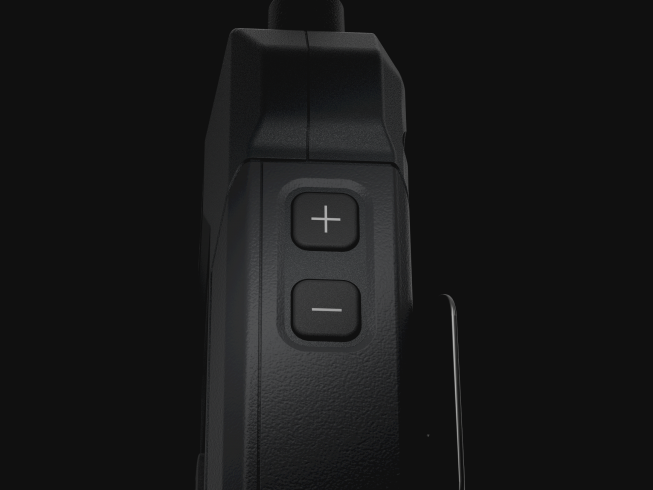 Volume Button
The volume buttons on the side of the beltpack allow for effortless adjustment of 10-level volume, ensuring optimal audio control.
Configure Your Device
Anywhere, Anytime
Seamlessly unleash the maximum capabilities of the device by utilizing the base station, Hollyvox app, and web page for device configurations and upgrades.
Web Page

Hollyvox App

Base Station
Continuous Power Supply
for Uninterrupted
Communication
Each beltpack comes with two replaceable lithium polymer batteries with an operating time of up to 6 hours. The included charging base completely alleviates concerns about low power, as it can fully charge 8 beltpacks and 8 batteries in merely 2.5 hours at a time.
The base station supports power supply through POE or NP-F batteries, ensuring uninterrupted communication regardless of the power source.
Incredible Form
Factor Effects
The beltpack features detachable antennas for easy replacement and added robustness, along with a secure TALK button. Weighing around 200g (7oz), the beltpack is crafted using double injection molding technology, providing a comfortable grip and improved drop-proof performance with its matte finish.
The headset with a military-inspired design features a metal head beam, specifically engineered to deliver optimal scratch-proof performance.

The base station is crafted with high-quality aluminum alloy, featuring a robust construction that ensures exceptional resilience, even in the most demanding environments.
SKUs
RU51 Wireless Intercom System RRU x1

Electret Mic ENC Single-Ear Headset x8

BP51 Wireless ENC Intercom Beltpack x8

Beltpack Battery Charging Base x1

External Fiberglass Antenna x2

Beltpack Battery for BP51 x16

4-Pin XLR Adapter x1

Neck Strap x8

POE Adapter x1

3/8 Mounting Screw x1

Crab Clamp for RU51 x1

RRJ45 to Dual XLR Cable x1

Hard-Shell Carry Case x1

RJ45 to XLR Cable x1

AC Power Cable x2

USB-A to USB-C Cable x1

User Manual x1

Warranty Card x1
RU51 Wireless Intercom System RRU x1

Electret Mic ENC Single-Ear Headset x4

BP51 Wireless ENC Intercom Beltpack x4

Beltpack Battery Charging Base x1

External Fiberglass Antenna x2

Beltpack Battery for BP51 x8

4-Pin XLR Adapter x1

Neck Strap x4

POE Adapter x1

3/8 Mounting Screw x1

Crab Clamp for RU51 x1

RJ45 to Dual XLR Cable x1

Hard-Shall Carry Case x1

RJ45 to XLR Cable x1

AC Power Cable x2

USB-A to USB-C Cable x1

User Manual x1

Warranty Card x1
BP51 Wireless
ENC Intercom Beltpack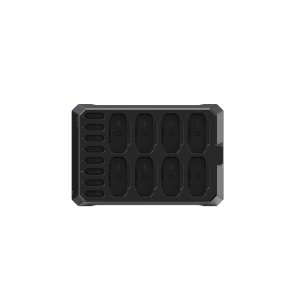 Beltpack Battery Charging Base
Beltpack Battery for BP51
RU51 Wireless Intercom System RRU
External Fiberglass Antenna
POE Adapter
4-Pin XLR Adapter
RJ45 to Dual XLR Cable
3/8 Mounting Screa
Electret Mic ENC Double-Ear Headset
Electret Mic ENC Single-Ear Headset
Over-Ear Earpads for HS01/02
On-Ear Earpads for HS01/02
Mic Cushion for HS01/02
Head Beam Pad for HS01/02
Crab Clamp for RU51
Interface

POE interface (RJ45)
Power supply interface (RJ45)
4-wire audio interface
2-wire audio interface
USB interface

Power Supply

POE power supply
NP-F battery

Frequency Response

150Hz-7kHz

Signal-to-Noise Ratio

>55dB

Distortion

<1%

LOS Range

1,300ft (400m)

Frequency Band

1.9GHz

Modulation Mode

GFSK

TX Power

<21dBm

RX Sensitivity

≤-93dBm

Bandwidth

1.728MHz

Power Consumption

<3W

Dimensions

(L x W x H): 255.5mm x 180.4mm x 48.5mm
(10″ x 7.1″ x 1.9″)

Net Weight

Approx. 1560g (55oz)

ENC Level

/

Temperature Range

0℃ to 45℃ (working condition)
-20℃ to 60℃ (storage condition)
Interface

3.5mm headset interface
0B10 headset interface
USB-C interface

Power Supply

1500mAh lithium polymer battery

Frequency Response

ENC OFF: 200Hz-7kHz (fluctuation range: ±6dB)
ENC ON: 200Hz-7kHz (fluctuation range: ±10dB)

Signal-to-Noise Ratio

60dB±2

Distortion

<1%

LOS Range

1,300ft (400m)

Frequency Band

1.9GHz

Modulation Mode

GFSK

TX Power

<21dBm

RX Sensitivity

≤-93dBm

Bandwidth

1.728MHz

Power Consumption

<0.65W

Dimensions

(L x W x H): 105mm x 65mm x 22.4mm
(4.13″ x 2.56″ x 0.88″)

Net Weight

Approx. 200g (7oz)

ENC Level

20dB

Temperature Range

0℃ to 45℃ (working condition)
-20℃ to 60℃ (storage condition)