Shenzhen, China, April 22 – Hollyland, a well-known company dedicated to providing wireless transmission technologies, solutions, and products, will be back at Prolight + Sound 2022 in Frankfurt, Germany on April 26 – 29, Main Stage (Hall 11.0) — A48.
As the world's largest trade fair, congress, and event organizer with its own exhibition grounds,Messe Frankfurt is served as an ideal communication hub that reunites the global media and entertainment technology community by providing them with an overview of state-of-the-art technological solutions and novel concepts. One of its most essential annual meetings – Prolight + Sound features solutions for every facet of an audio-visual production or an entertainment show. After the cancellation of two consecutive editions of the fair due to the impact of the COVID-19 pandemic, the new Prolight + Sound Frankfurt 2022 appointment has been scheduled for customers and exhibitors around the globe.
Taking this unmissable opportunity, Hollyland is thrilled to showcase our diverse range of products and solutions including our latest innovation and top sellers covering wireless audio/video transmission, intercom systems and microphone with high performance and versatility.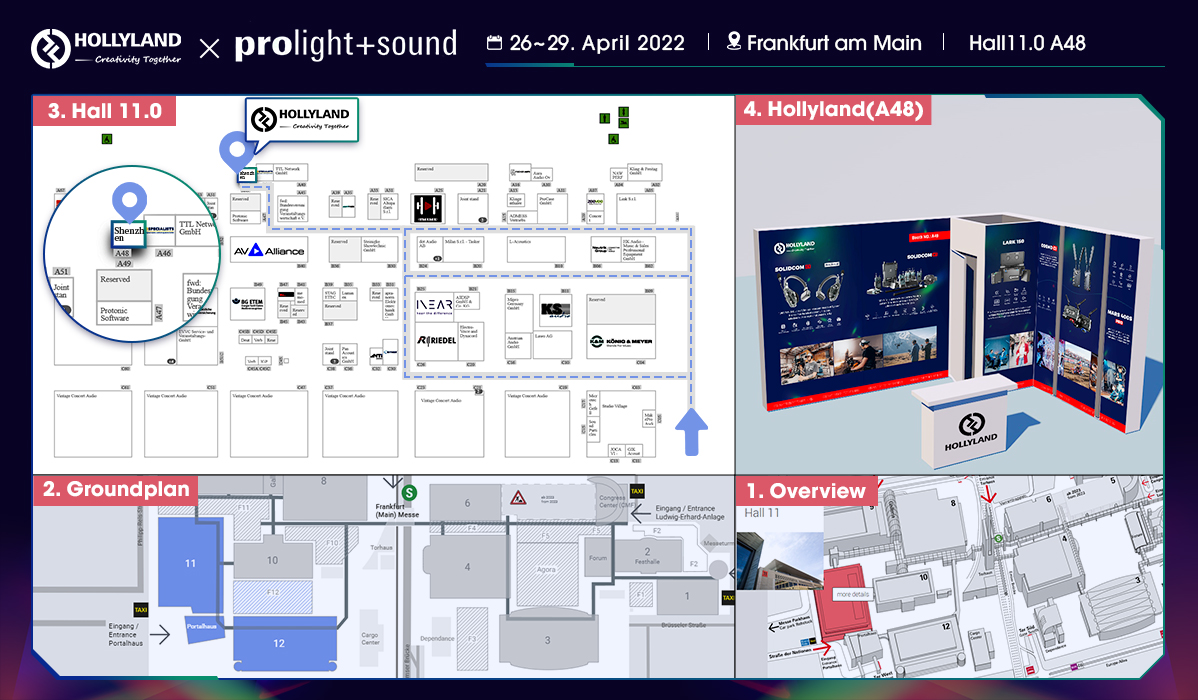 (Illustration: The overall road map of Prolight + Sound 2022 in Frankfurt)
Among many inspiring topics to be held simultaneously thisyear,Hollyland has chosen to be engaged in the ProAudio theme hall, an area visitors can enjoy a comprehensive experience of the world's professional audio technologies. Under this topic, it is the first time that Prolight + Sound 2022 will offer a separate exhibition area for the studio, DJ, and recording solutions. Hollyland is fully-equipped to be present at Stand A48, Hall 11.0 of this new area with a wide range of products.
(Illustration: Hollyland's star models to be demonstrated for this exhibition)
Onsite Interactions
As usual, we've prepared some souvenirs (including but not limited to data cable, T-shirt, mug, pen) for our visitors. And we sincerely invite you to our stand A48 (Hall 11.0) for a satisfying experience.
Our Highlight Products for the Exhibition:
1) Wireless video transmission systems
As an efficient and budget-friendly solution for multi-party video monitoring via WiFi, Mars 400S Pro provides a maximum transmission distance of 120 meters with 0.1s low latency. Featuring a brand-new design, SDI & HDMI dual ports, RTSP video streaming capability, and smart channel scan built for prosumers and consumers, Mars 400S Pro greatly facilitates teamwork efficacy with high definition quality and reliable connection.
l Cosmo C1
Transformed by Hollyland's HEVO wireless transmission technology, Cosmo C1 offers a new standard for real-time video monitoring up to 350 meters (LOS) with an ultra-low 0.04s latency, guaranteeing a stable and smart transmission in complex environments. Industry-first to integrate UVC (USB Video Class) interface, Cosmo C1 offers a more simplified access to live streaming. It is an ideal kit for pro filmmaking, micro-to-medium events broadcast, and commercial shooting, etc.
2) Wireless microphone
The Lark 150 Duo is a cost-effective and easy-to-use wireless microphone system that offers a portable, all-inclusive solution for recording two subjects with rechargeable batteries for extended hours. Featuring an anti-vibration design and the built-in high-sensitivity omnidirectional microphones, it ensures outstanding sound quality with ultra-low latency sub-5ms response at up to 100m transmission distance in a more user-friendly manner.
3) Wireless audio transmission system
l Solidcom M1 Full-Duplex Wireless Intercom System
Solidcom M1 full-duplex wireless intercom system, each system comes standard with 8 beltpacks supporting system cascading via IP networks, 2W and 4W interfaces for expandable needs. The Solidcom M1 base station offers two antenna options to tackle different intercom scenarios. Combined with its self-developed Noise-Cancellation Algorithms and a super-wide frequency response, it delivers authentic and premium sound at a broadcast-level sampling rate. It is an ideal intercom system for medium to large events production where the teams need reliable real-time communication remotely to execute jobs with precision.
l Solidcom C1 Self-contained Intercom Headset System
The latest innovation – Solidcom C1 full-duplex wireless intercom headset system, adopting the advanced DECT 6.0 technology, is Hollyland's first true wireless and self-contained headset communication solution with exceptional sound clarity. The system operates in the 1.9GHz band, providing a reliable transmission range up to 1,000ft (350m) radius (LOS).
Solidcom C1 HUB8S – 9-person intercom with Hub & 8 Remote Headsets
This configuration includes HUB base allows you to use 8 remote headsets at the same time and offers additional functions, including A/B grouping and an announce key for emergencies. It can cascade with other 2/4-wire wired intercom systems, and daisy-chain with as many HUB systems as needed to meet more complex real-life operational requirements.
Multiple packages of this intercom system are available to accommodate varying team sizes to ensure a smooth and precise communication and coordination.
We are looking forward to meeting you in Frankfurt Prolight+sound 2022!