Overviews: The new design ideas give Cosmo C1 the ability to power with different solutions, which brings more conveniences to the users.
There are 3 ways to power the Cosmo C1:
DC adapter (6~16V)
NPF battery
Type-C (5V/2A)
DC Adapter: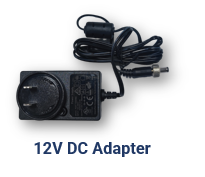 NPF Battery:
NPF 970 4~6H
NPF 750 3~4H
NPF 550 2H
Type-C Adapter:
Charging current and voltage needs over 5V 2A.
Note: you can use a power bank to charge our device, but it is not a good choice, because it always provides an unstable supply current if the battery capacity of the power bank is lower than 75%.