OVERVIEW: Parameter setting is an essential function for professional equipment, it can help the user work more efficiently, the article below will show you how to enter the parameter setting page via the WEB server.


CONNECTION:
DETAILED PROCESS:
Method 01: WIFI Connection
STEP1:
Please turn on the wifi function on the hub. Then connect the WIFI on PC.
STEP2:
Enter the device's IP address 192.168.217.100 on a browser to set up the device.
Note:
1. The Solidcom C1 WIFI is work in 5GHz, so only the PC which support 5GHz WIFI can connect it.
2. Recommand to use Window system to connect the WIFI, some Mac system PC may not find the WIFI SSID.
Method 02: Network Cable Connection
STEP1:
Please enter the menu page of the base station, then click Network options to check the device's IP information, please make sure the IP address automatic function was closed.
STEP2: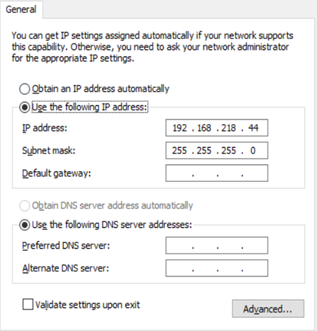 Please enter your computer's IPV4 settings page, then select " Use the following IP address", set the IP address to 192.168.218.XXX, it can not be the same as the device.
STEP3:

Enter the device's IP address to the browser, then you can get the page as below
STEP4:
Then you can set the device's parameter like grouping on this page