OVERVIEWS: The Solidcom C1 supports connecting 1 base station up to 8 intercom headsets, and our company will provide more flexible options to the customer to achieve their demand. So getting how to pair a new belt pack is necessary, the methods of pairing was shown in the below article.
For Master Headset Pairing
STEP1:
Long-press 【A】button of 【Master】 and 【Slave】 headsets for 5s to pair it. The Mic Indicator will be a 【Quick Green Flashing】
STEP2:
Mic Indicator turn to 【Green Steady】 which means paired and connected
Note: The master headset can pair with up to 5 remote headsets.
For Hub Pairing
CONNECTION: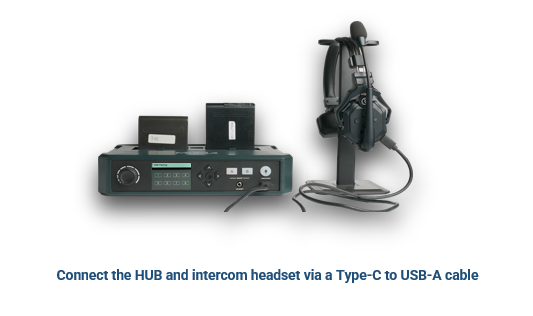 STEP1:
Turn on headsets and the hub, then connect the intercom headset and the base station as above via a Type-C to USB-A cable
STEP2:
The belt pack number page will display after you connect the belt pack to the base station, please select the number and click ① to confirm.
Note: The hub can pair with up to 8 remote headsets, but the master headset can't pair to the hub.