It is with great excitement that Hollyland will for the first time be present at the annual multi-faceted four-day event ISE 2022 to be held in Fira Barcelona Gran Via, Spain from May 10th to 13th.
Integrated Systems Europe (hereinafter referred to as "ISE"), is the largest Audiovisual systems integration show in the world. Since its launch in 2004, after 16-year fast growth, ISE is widely recognized as a major launch-pad for manufacturers and service providers to propel new products and solutions into the AV and systems integration marketplace.After converting to a compact hybrid format in 2021 in response to the COVID-19 pandemic, ISE 2022 is scheduled to host the first regular edition of the fair in its new home city of Barcelona. This year, after a 3-month postponement due to the impact of the Covid-19 Omicron variant, it now has a new appointment with dates set for 10 – 13 May. As one of the flagship exhibitors, Hollyland will be present at Booth 5R30, Hall 5, a dedicated zone for multi-technologies.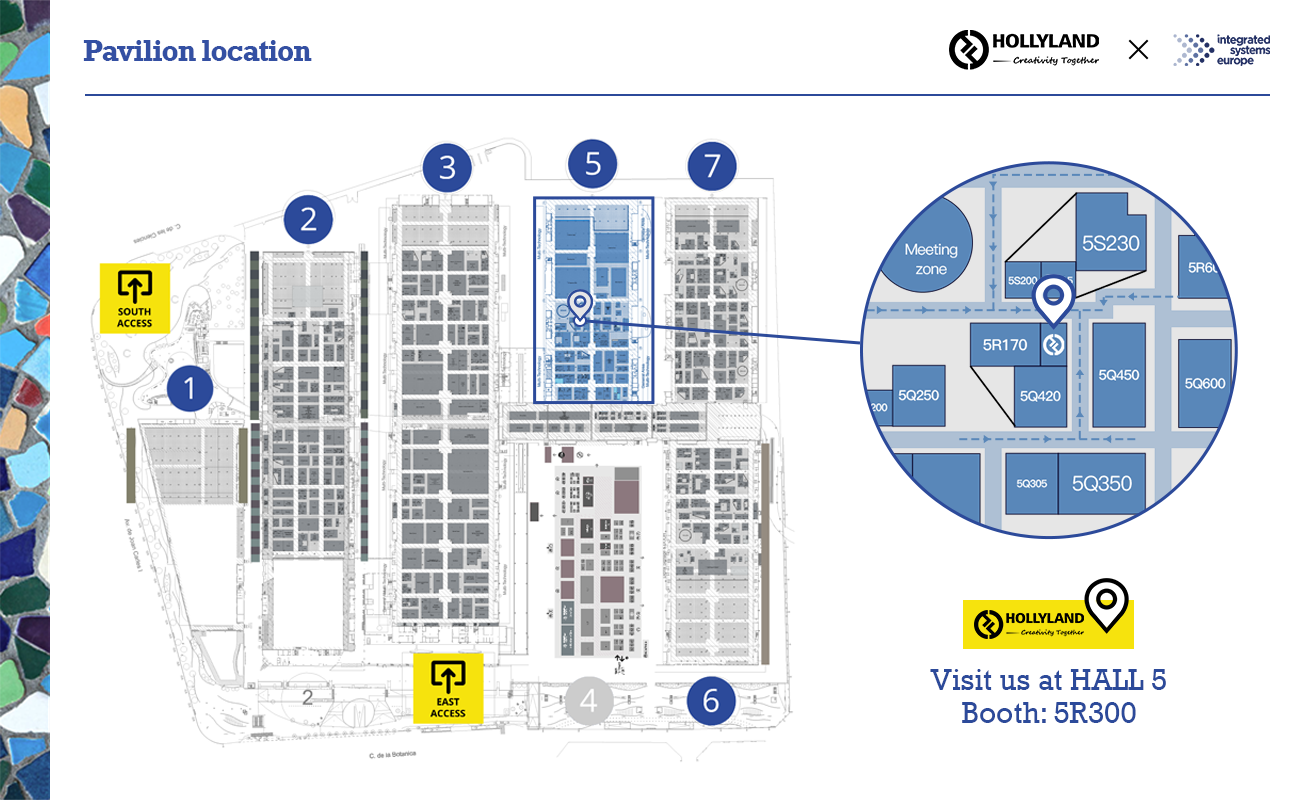 (Illustration: The overall roadmap of the exhibition)
Through this valuable chance, Hollyland is well-prepared to showcase a few of our latest wireless video and audio transmission innovations aiming to make new connections with our clients.
Our highlight products for this exhibition
1) Wireless Intercom System
Hollyland's cutting-edge technology, Solidcom C1 full-duplex wireless DECT intercom headset system, is our first true wireless and self-contained headset communication solution. The lightweight and hands-free intercom system operates in the 1.9GHz band, providing a reliable transmission range up to 1000ft (350m) radius (LOS) with rechargeable batteries for extended working hours. Multiple package options are available to accommodate varying team sizes in more complex real-life operational requirements.
Solidcom M1 full-duplex wireless intercom system, each system comes standard with 8 beltpacks supporting up to 3 groups grouping with more versatility. For expandable use, each system can cascade via IP networks, 2W and 4W interfaces with no limit. The 2 antenna options render Solidcom M1 significantly improving on-site work efficiency and flexibility with prolonged transmission ranges. It is an ideal intercom system for medium to large events production where the teams need reliable real-time communication remotely to execute jobs with precision.
2) Wireless Video Transmission System
l Cosmo C1
Transformed by Hollyland's HEVO wireless transmission technology, Cosmo C1 offers a new standard for real-time video monitoring up to 350 meters (LOS) with an ultra-low 0.04s latency, guaranteeing a stable and smart transmission in complex environments. Industry-first to integrate UVC (USB Video Class) interface, Cosmo C1 offers a more simplified access to live streaming. It is an ideal kit for pro filmmaking, micro-to-medium events broadcast, and commercial shooting, etc.
Lucky Draws
As usual, we've prepared lucky draws for our visitors. And we sincerely invite you to our stand Booth 5R30 (Hall 5) for a satisfying experience.
Time: May 10th – 12th (1 draw per day)
Prizes:
May 10th Prize: Lark 150 Solo
May 11th Prize: Solidcom C1-4S
May 12th Prize: Cosmo C1, Lark 150 Solo
How to participate:
1. Leave your Name Card into our on-site raffle box at Booth 5R30;
2. Follow us on Facebook @HollylandTech or on Linkedin @Hollyland Technology
(The above 2 conditions must be both met to participate in the draw.)
Note: Hollyland reserves the right to interpret the Lucky Draw Event.
Deeply rooted in the wireless transmission field with the mission of "Empower people to connect creativity wirelessly", Hollyland is committed to offering professional wireless products designed for audio & video transmissions and intercom solutions for real-time communication.
ISE 2022 is confidently expected to be a worthwhile experience.
We are looking forward to greeting you all in person to show you a wide range of our professional wireless video and audio transmission solutions.