Christmas and New Year are right around the corner, so the gift-giving season has nearly arrived. If you would like to be known as the best gift-giver this season, now is the best time to start shopping for must-have gifts to ensure that your gift will not be last-minute!
You may be wondering what wireless microphone would be perfect for those friends who are a streamer, a podcaster, or the like on your list. Or maybe you are also keen to treat yourself to some incredible audio recording gear. Then, dive in! In this article, we have proposed some best gift ideas for mobile steamers, podcasters, or vloggers from the Hollyland product range.
Lark M1–Wireless Lavalier Microphone
Instead of spending thousands of dollars on a wireless microphone, every budding streamer or vlogger is better off choosing an affordable wireless microphone while they are on the go. The Lark M1 wireless lavalier microphone delivers high-quality omnidirectional sound, excelling in different applications, such as live streaming, broadcasting, interviewing, podcasting, conferencing, and more. YouTubers, vloggers, live streamers, or those who are searching for a no-fuss audio solution will find that the Lark M1 lapel microphone is an ideal all-in-one solution to their audio needs.
l Noise cancellation to reduce background noise and deliver clearer sound
l Two-in-one design for charging & storage on the go
l Three volume levels available to achieve the desired sound effect in different recording environments
l Remarkable Hi-Fi sound delivery by accurate tone reproduction across a wide frequency range
l Crisp audio recording at distances of up to 650ft (200m)
l Simple and sleek form factor with five color options, including cool black, ivory white, rosy pink, mint green, and violet purple
l Wide compatibility for audio recording on different devices, such as mobile phones, cameras, tablets, and laptops
l Built-in rechargeable battery with an operation duration of 7 hours
l Available in the solo package with one transmitter and one receiver
Lark C1–Plug-and-Play Mobile Microphone
When thinking about the perfect wireless microphone for a vlogger or a podcaster who is keen to record audio on their mobile phones, you can't pass up the Lark C1. The Lark C1 is an ultra-compact premium plug-and-play digital wireless microphone, ideal for audio recording on mobile phones. It is a purpose-built mobile microphone that captures exceptional sound without the fuss of extra operations or cables. Simply plug it into your mobile device via the interface on the receiver, and then get in the mood to record amazing audio.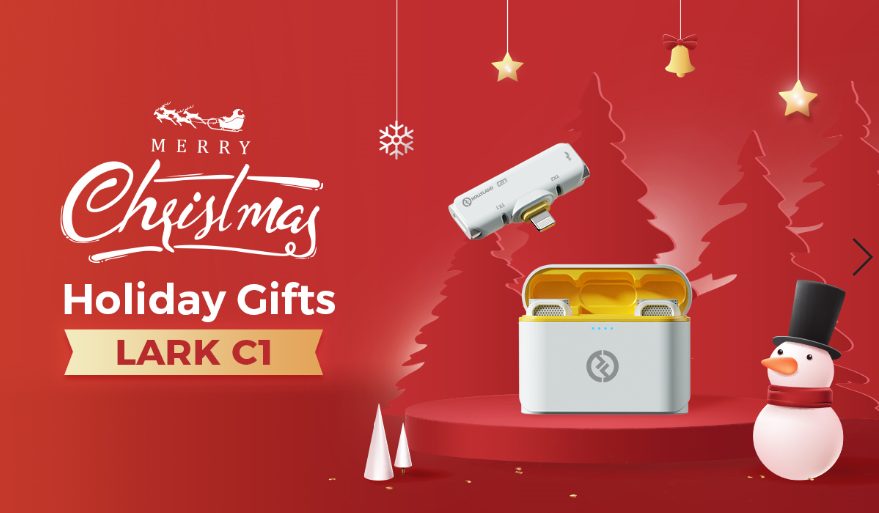 l Available in two versions—the MFi-certified Lightning interface iOS version and USB-C interface Android version
l Plug-and-play design to untangle your audio recording workflow
l Simultaneous recording and charging to deliver an uninterrupted recording experience
l Audio playback on the phone speaker without having to unplug the receiver from the phone
l Hi-Fi sound capture for an outstanding recording and listening experience
l Active noise cancellation to block out unwanted ambient noise even in the most demanding environment
l Ultra-compact size for easy placement on clothing
l Ultra-long duration of 32 hours for a full-day audio recording
l Pristine audio recording at a wireless range of up to 650ft (200m)
l Black and white color options with different packages to meet different recording needs
l Simplified operations using the LarkSound app, like viewing the TX battery percentage and adjusting the noise cancellation level
Lark 150–Dual-Channel Wireless Microphone
For those working in professional scenarios such as important event steaming or those simply looking to record audio that matches the quality of their videos without having to run lengthy cables, the Lark 150 is a perfect solution for professionals who may need to connect their microphone to professional-grade devices, such as cameras. It is a wireless microphone system designed with two independent ultra-compact mics to record 2-person dialogues, perfect for those who would like to make their mobile wireless audio recording more professional. The Lark 150 comes with multiple handy features, such as DSP noise cancellation, unrivaled compatibility, smart signal processing, security track, LCD screen, and more, making it a perfect gift for street interviewing, travel vlogging, live streaming, and other types of digital content creation that feature one or two people onscreen.
l Carry-on storage and charging for uninterrupted audio recording
l Mini and lightweight design, making it easy to trek around
l Noise buffer design for clearer action audio
l Unrivaled compatibility for working with different devices, such as mobile devices, cameras, and computers
l Smart signal processing to ensure a stable connection
l Crystal-clear audio recording at distances of up to 300ft (100m) LOS range
l Auto lightning-fast pairing to record exceptional audio in seconds
l Three recording modes available–mono, stereo, and safety to safeguard your audio
l LCD screen to allow you to keep tabs on the operation status for real-time monitoring during the recording
Allow Hollyland to help you explore some unique wireless microphone possibilities for those who are a streamer, a vlogger, or a podcaster on your recipient list for the holiday season. We hope this article can help you make a wise choice when shopping for a wireless microphone and figure out what kind of product you should purchase as your holiday gift for your friends. If you want to explore more deals about Hollyland products, please check out all the holiday sales information on our official website.