Up until quite recently, a wireless microphone for vlog systems could be rather complicated. There are different ways to pair and match microphones, as well as check whether the channels and groups are functioning properly.
Vloggers and interviewees who are searching for a no-fuss audio solution will find the Hollyland Lark M1 clip on microphone wireless pair kit to be an ideal all-in-one answer to their audio needs.
The kit will be tidily packaged in a semi-hard container that includes the charging case together with the transmitters and receiver, as well as the connection cables needed to get started using the device.
Hollyland Lark M1 Wireless Lavalier Microphone Introduction
The Lark M1 wireless lavalier microphone has a body that is both elegant and small, and it is capable of producing omnidirectional sounds of exceptionally rich quality. This microphone is very portable and lightweight, making it suitable for attachment to nearly anyone's collar. The charging case is intended to both store and charge two transmitters in addition to the receiver, maximizing both the amount of time that the device may be used and its mobility.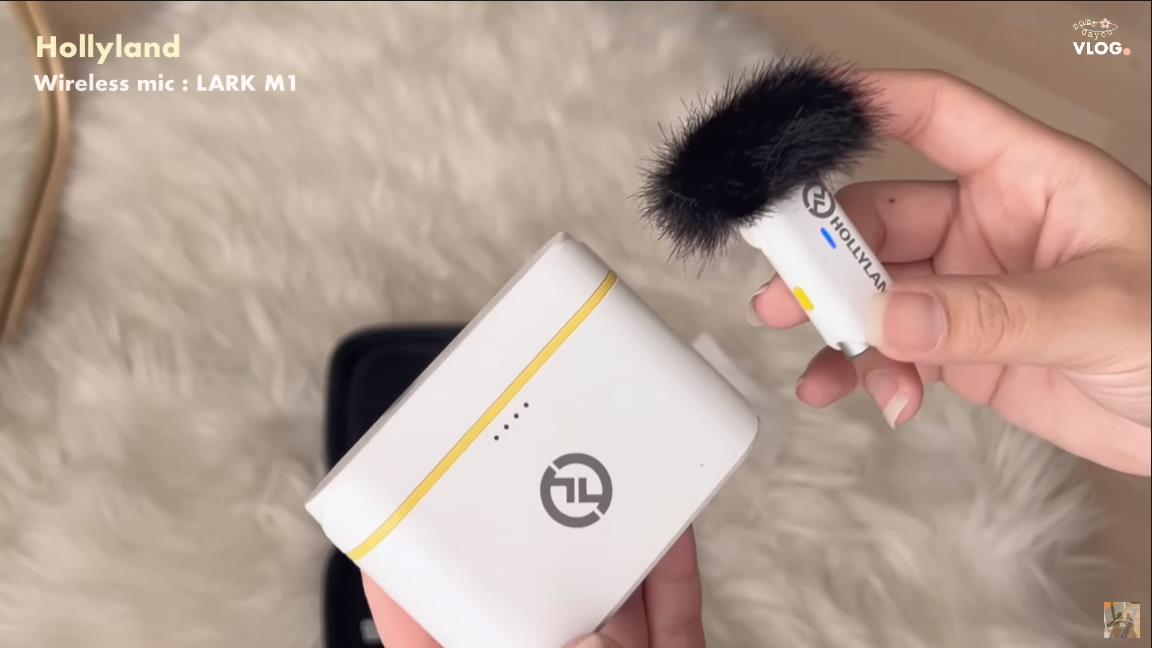 The M1 wireless lavalier microphone has an acoustic performance that is maximized by a sleek metal mesh textured skin, making it easy to wear thanks to its curved edge ergonomics and matte UV-painted surface. Additionally, with the built-in noise cancellation function, the Lark M1 is perfect for recordings even in the most demanding environment.
Simplified Operation & Excellent Noise Reduction
The setup of the Lark M1 is rather straightforward. Simply remove the transmitter, and then you can start your recording right away. All that is required of you is to connect the recorder or other device you wish to use to the receiver of the Lark M1 wireless vlogging mic.
The transmitter has a few buttons at most. There is a button for turning the device on and another one for pairing or noise cancellation. Even the receiver has also just a power button, a pairing/volume up button with settings for low, middle, and high, and a volume down/mode switch button between stereo and mono sound.
The Lark M1 is designed with a noise cancellation function, which helps block out any undesired background noise and offers clear sounds, so you can record your adventure even in the most challenging recording circumstance. This budget wireless lav mic is definitely the best solution!
Remarkable Hi-Fi Sound for a Better Listening Experience
The Lark M1 is a cutting-edge omnidirectional mic that adopts LC3 codec technology to achieve an enhanced sample rate and bit depth of up to 48kHz and 16 bits. This means that the Lark M1 clip on mic microphone wireless device is able to create a more complete and accurate reproduction of audio and record vocal range sounds with incredible accuracy and detail. With the Hi-Fi sound quality, you can rest assured that there is less distortion of the sound, and you will never miss any important sound information, delivering a pleasant listening experience.
With its superior sound quality and reliable performance, the Lark M1 collar microphone wireless is the ideal choice for any discerning recording engineer. It is also a cheap wireless lavalier microphone for blogging and shooting.
Auto Frequency Hopping Technology & Long Wireless Transmission Distance
Auto frequency hopping technology is a type of spread spectrum communication that is used in wireless networking. It is designed to minimize interference from other devices and to provide a more secure connection.
The microphone wireless lavalier technology works by rapidly changing the frequency of the signal, making it more difficult for eavesdroppers to intercept the data. In addition, frequency hopping also helps to reduce interference from other devices that are using the same or similar frequencies.
As a result, auto-frequency hopping of the new wireless microphone can provide a more reliable and secure connection for wireless networks. The Lark M1 vlogging wireless microphone features exclusive auto frequency hopping technology that allows it to automatically avoid signal interference from other electronic devices. This makes it ideal for use in environments where there is a lot of electronic activity, such as in a TV studio or concert hall.
The Lark M1 affordable wireless lavalier microphone is also capable of recording crystal-clear audio at a long transmission distance of up to 650ft (200m). All these features make the Lark M1 ideal for use in portable applications, such as on-location video shoots.
Hollyland Lark M1 vs. Lark 150
When talking about the Lark M1 lavalier microphone wireless device, you may wonder what exactly the differences are between the Lark M1 and Lark 150 (Hollyland's first innovation in wireless lavalier mic production).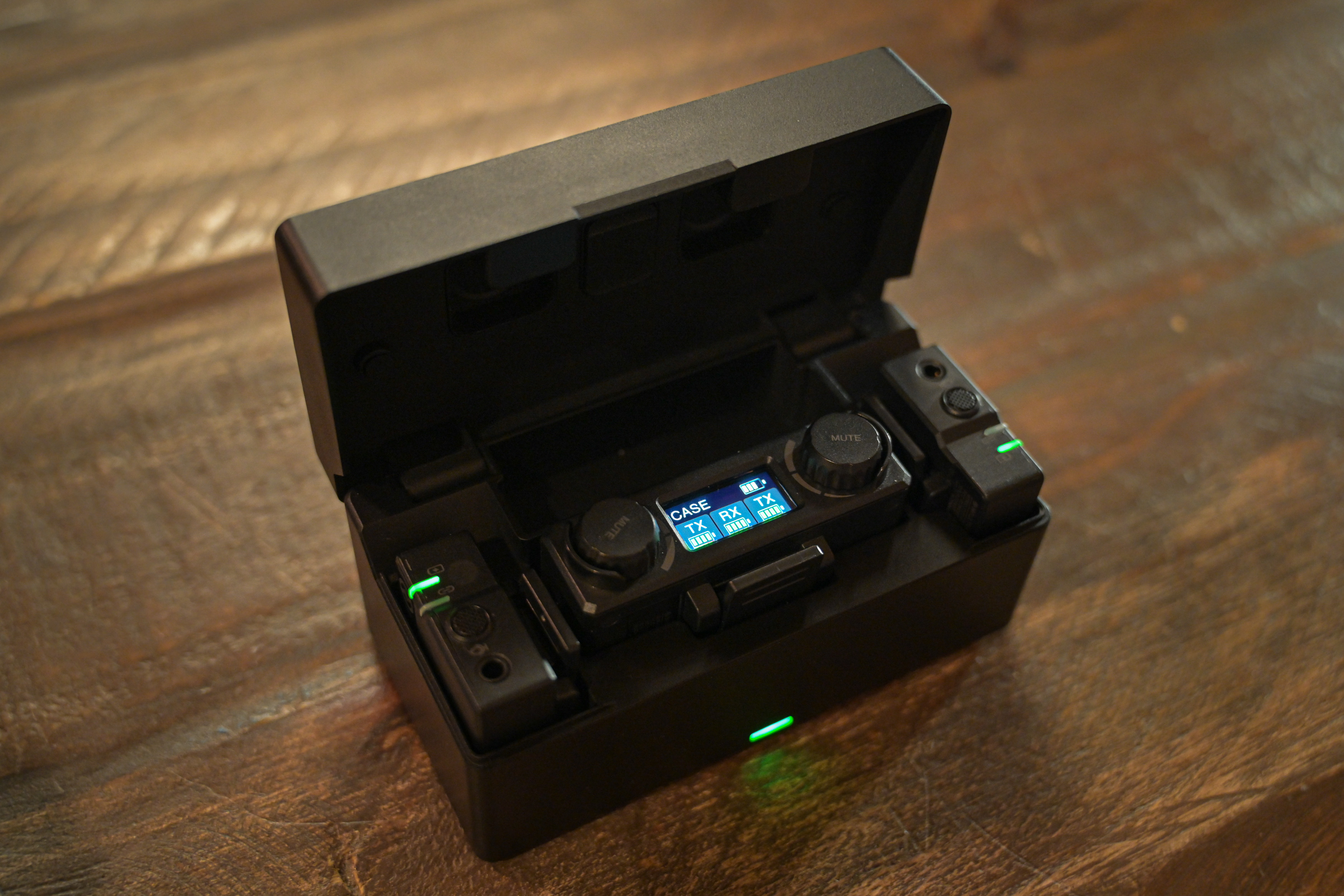 The Lark 150 is a wireless microphone system with two ultra-compact mics that are designed to record 2-person dialogues. The first apparent difference between the Lark M1 and Lark 150 is the price. The Lark M1 duo is priced at $149, while the Lark 150 is sold at $279. So, if you are on a tight budget and want to purchase a budget wireless lavalier mic with a favorable cost performance, the Lark M1 wireless lavalier microphone will be the first pick for you.
The Lark 150 also sports an LCD screen, allowing you to keep tabs on the operation status for real-time monitoring during recording. Both the Lark 150 and Lark M1 come with a mono track for 1-person vlogging and a stereo track for 2-person vlogging, while the Lark 150 is also enhanced by a safety track designed for outdoor shootings to prevent audio popping and safeguard your audio. So choose the Lark 150 if you need to further protect your audio.
Conclusion
The Lark M1 wireless lavalier mic is a 3-level volume preset device that gives you the freedom to take your music anywhere. With a 650ft (200m) long wireless distance, you can enjoy your music indoors or outdoors without worrying about cords getting in the way.
The simple and sleek design of the Lark M1 makes it easy to clip it the way you like, so you can take it with you on your next adventure. Whether you're hiking, biking, or just spending time at the park, the Lark M1 is the perfect way to enjoy your music without being tied down by cords.